After months of tweaking, testing and mucking around… I have finally published "Galliatt". It is a turtle neck lacy poncho-style tunic, comprising 3 colours of worsted weight yarn (or any colour configuration you like!).
It is worked flat in two pieces. The sides are fixed together with your choice of fashionable buttons, facing back-to-back, therefore no button holes are required. It is designed to be roomy, so that you can wear a light sweater underneath. A practical piece for everyday wear.
***************************************************************************
Get 20% OFF ALL MY PATTERNS on Ravelry – use code: jimi20 Expires 11th Oct 2017 – GMT. Link: https://www.ravelry.com/designers/jimenez-joseph
***************************************************************************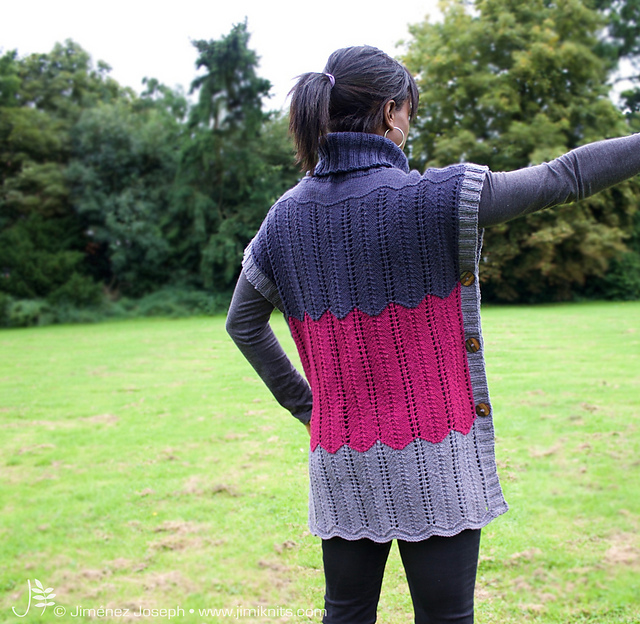 Galliatt is a funny name, I agree, but really it was just a respectful nod to the yarn that inspired the design in the first place. De Rerum Natura's Gilliatt is a worsted weight, semi-woolen spun, French and European sourced merino yarn, produced in France in an ethical and ecological way. It is available in natural and dyed colours.
October Events
Oslo Strikkfestival – Friday 20 October to Sunday 22nd October 2017.
Oslo Strikkefestival is a fest for fiber-lovers and yarnaholics in the heart of Oslo! This years' festival is over three days, from Friday, October 20th to Sunday, October 22nd. For even more fun this year, the festival is taking place in two different venues; Deichmanske Hovedbibliotek and Norsk Folkemuseum.
Friday October 20th: Opening Party! – Knitting lounge, Live Entertainment, Drinks, Snacks and Debates and Movies! Address: Deichmanske Hovedbibliotek, Arne Garborgs plass 4, 0179 Oslo.
Saturday and Sunday October 21st and 22nd – Marketplace, Workshops, Talks, Entertainment, Festival Knitting Lounge and After Party! Address: Norsk Folkemuseum, Museumsveien 10, Bygdøy, 0287 Oslo.
See you there! 😃